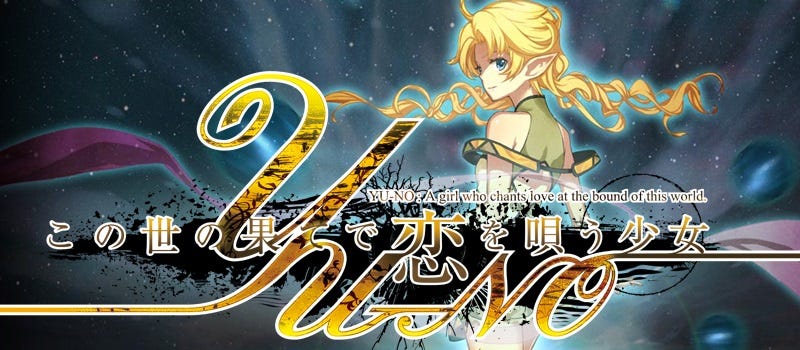 I've played through several dozen Visual Novels over the years and there are two titles that I consider anomalies, works that convey their story from very unconventional means, yet manage to succeed so well that it challenges the conventions and standards of the medium itself, maybe even storytelling in general. One of them is Muv-Luv Alternative, which I require regular catharsis from, and the other is YU-NO: A girl who chants love at the bound of this world written by the late Hiroyuki Kanno. It's a title that released back in 1996, and it's probably the most beloved Visual Novel of all time in Japan.

YU-NO is a more adventure oriented visual novel which requires some problem solving at times like old text based adventures. You play as Arima Takuya who seeks to discover the mysteries behind an unusual device sent to him from his missing father. You have several actions such as talking, moving, picking up and using items. Being a game that's over 20 years old, YU-NO lacks the streamlined progression of current day video games. Advancing the story usually requires talking to specific characters or annoying point and click scenes. The game can be pretty unforgiving at times as you can miss picking up an item several hours back and have to go back to an early save or even start from the very beginning to continue the story. As frustrating as the game can be, the old style mechanics actually make for a fairly immersive experience.
The influence of YU-NO's multidimensional concepts and route branching can be seen in titles such as Steins;Gate, Ever17 and the Zero Escape series, and to this day I have yet to see system functionality used as ambitiously as YU-NO has. To make a bold statement, YU-NO is a title that defines adventure, taking you to every corner and beyond through it's innovative ADMS (Auto Diverge Mapping System) and Jewel Save system. Unlike most save systems in VNs where you can simply bring up a menu and save whenever you please, the save points in YU-NO are an actual jewels you leave behind which permanently persists until you pick it up, even when you start a new game. You do however have a limited number of these jewels, and loading from these savepoints will consume the actual save. This system is the real key behind YU-NO's fantastic immersion and it's exclusive integration to the plot is the reason we may never see something like this again.

The intricacies weaved in YU-NO's many routes are awesome, but it does require you as the player to make dozens of actions and numerous replays before the plot starts to piece itself together. Coming from a time period where games were generally a lot more unforgiving and offered you little to no help, you'll often find yourself at a dead end, not knowing if you missed some sort of prerequisite or key from a different route. Which is why I recommend playing YU-NO with a walkthrough and following it to the T. It'll feel like neverending repetitive hell, but like a certain mad scientist and bratty saviour, you too will eventually find the pieces to unlock the final door and Yu-No does not fail to pay you off in spades for your efforts.
Despite it's age and graphical limitations, YU-NO still manages to be highly engaging with it's detailed pixel art, atmospheric 16-bit music, and nostalgic mid-90s presentation. It's a nice departure from some of the prevalent tropes and conventions of anime in the present day, and takes you back to a foreign yet familiar time period.
With it's remake and anime coming soon, I'm excited to see new life breathed into this classic piece, however I highly suggest playing the 1996 release in it's original glory. For visual novel fans, this is a piece of history you should definitely go out of your way to experience.